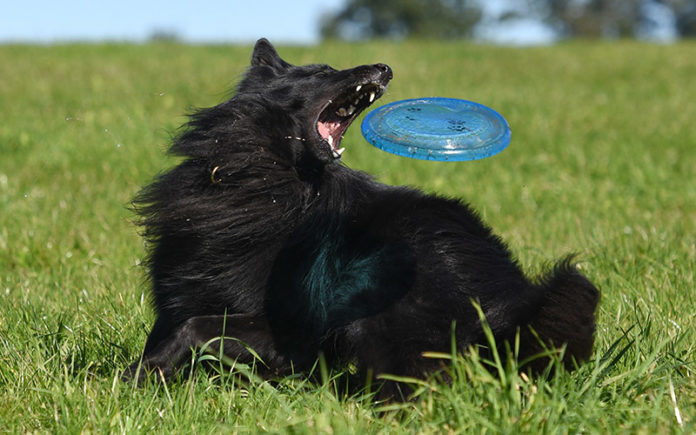 Are you looking for the best dog frisbee? Then you've come to the right place! The Frisbee is a very popular toy – for humans and pups alike.
In fact, if you've ever heard of the Stanley Cup (a hockey trophy), did you know there is also the Irv Lander Cup? This award honors the furry winner of the annual K-9 Frisbee International Championships! Presenting your pooch with their very first dog Frisbee toy is a big milestone.
After all, this simple disc could represent years of fun and memories for you both. To get the most out of this game, you want to make sure you get the right Frisbee.
The days of having just one Frisbee toy to choose from are long gone! Today there are so many different dog Frisbee toys for puppies, active chewers, swimmers, sprinters and more.
Products included in this article were carefully and independently selected by the Labrador Site team. If you decide to make a purchase from one of the links marked by an asterisk, we may earn a small commission on that sale. This is at no extra cost to you.
| Name | Type | our Rating |
| --- | --- | --- |
| Chuckit! Paraflight | soft dog frisbee | |
| Floppy Disc | cloth dog frisbee | |
| Ruffwear Hover Craft | foam dog frisbee | |
| Nylabone Go!Active | floating dog frisbee | |
| Kong Flyer | rubber dog frisbee | |
So now, read on to learn about some of the most amazing dog Frisbee toys and choose the one you think your dog will like most!
Why we love dog Frisbees
Believe it or not, researchers have a great curiosity about how dogs navigate to catch and retrieve Frisbees. As it turns out, the techniques your dog uses to snatch a Frisbee out of thin air are just like the techniques baseball players use to catch that tiny ball in midair! Even the Guinness Book of World Records is interested in Frisbees, and most especially in Rose, a six-year-old canine who can catch seven Frisbees at once (a skill she learned because she never wanted to give any of the Frisbees back to her owner!).
Dog Frisbees are fun. They are great for keeping your pooch fit and lively (they are great for keeping you fit and lively as well). They are affordable and travel well. Plus, dogs seem to just love them. What more could you ask for in a dog toy?
Nerf dog Frisbee
The Nerf brand is almost as milestone-making as the Frisbee toy. Here are some great picks! Nerf Dog Nylon Flyer*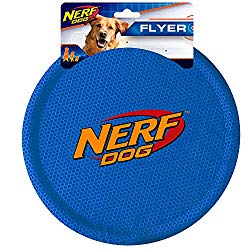 This Nerf dog Frisbee has it all – bright colors, tear-resistant nylon material, the ability to fly and float – and you can order it as a single or in a two-pack.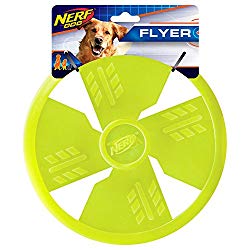 This fun dog catching Frisbee makes it easy for your pup to find and retrieve it whether your toss ends on land or in water. The TPR stands for "thermoplastic rubber," which is a special kind of flexible yet durable allergy-safe rubber material.
Soft dog Frisbee
Puppies in particular can benefit from soft dog Frisbee toys until their gums and teeth are less sensitive, and these picks will fit the bill! Booda Tail-Spin Flyer*
This fun and colorful soft Frisbee is great for dog Frisbee training, especially for puppies and small dogs. This toy can even double as a water dish when not in use! It comes in 7-inch, 10-inch and 12-inch sizes.
For many dogs, the ChuckIt! Is the best dog Frisbee. It is designed to both fly high and float. The center is a durable nylon that is chew-resistant while the outside rim is made of flexible rubber. It comes in small or large as a single or in a two-pack.
Kong Frisbee for dogs
A dog without a Kong is like a dog without a….Frisbee. With these two great toys, you can give your dog both at once! Kong Flyer Dog Toy*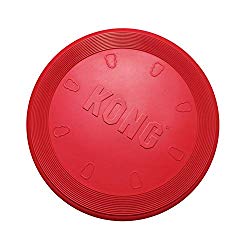 Kong is a classic name in dog toys, and the brand's indestructible dog Frisbee is no exception. This toy is made in the U.S.A. and designed to cause no harm to your dog's mouth during games of fetch. You can buy the Kong Flyer in small or large as a single or in a two-pack.
Your puppy's first Frisbee is a big moment in both of your lives, and you want it to be a safe and fun moment! Kong makes the puppy flyer with teething rubber so it is soft on a puppy's still-developing gums and teeth. The size is also designed specifically for puppies.
Glow in the dark dog Frisbee
Just like human kids, sometimes canine kids need to be tired out before they will go to bed. For that task, you need a glow in the dark dog Frisbee like these! Nite Ize Dog Discuit LED Light-Up Flying Frisbee*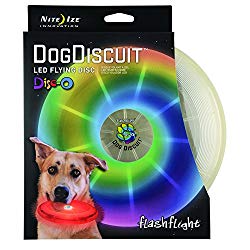 Just when you and your pup think you've seen every possible option for dog Frisbee toys, along comes the LED Light-Up Frisbee, a wonderful light-weight, night-friendly toy. Two lithium batteries are included in the kit.
Hyperflite Jawz Glow-in-the-Dark Disc*
This disc dog Frisbee is literally made for the world-class canine athlete, made by dog owners who compete in canine Frisbee contests. This toy seems to be literally chew-proof, making it perhaps the best dog Frisbee for chewers on the market.
Rubber dog Frisbee
Rubber dog Frisbee toys are often the best pick if you have a real chewer on your hands. Each of these rubber Frisbees takes a fun variation on the classic rubber Frisbee toy theme. West Paw Zogoflex Zisc Tough Flying Disc Dog Play Toy*
This popular and highly rated tough dog Frisbee comes in large and mini sizes, making it perfect for large and small dog Frisbee enthusiasts. You can choose from three colors (aqua, granny smith green, tangerine orange) and a glow-in-the-dark option. It is made of a soft rubber material but performs like it is made of hard rubber.
JW Pet Whirlwheel Flying Disk Dog Toy*
This unique dog soar Frisbee disc has a squeaking center and comes in a soothing vanilla scent. It is made of natural soft rubber that is floppy and can also be a tug-of-war toy, a chew toy or a teething toy for puppies. It comes in green or orange in a single or a two-pack.
Foam Frisbee for dogs
Foam can be a great Frisbee choice because it is very lightweight but also quite aerodynamic, as these two options will attest! StarMark DuraFoam Easy Glider Max*
This foam dog Frisbee toy is made of an extra-durable foam material that floats and will resist chewing and puncture. It comes in a variety of colors and measures 11 inches across.
Ruffwear Hover Craft Flying Molded Foam Core Disc for Dogs*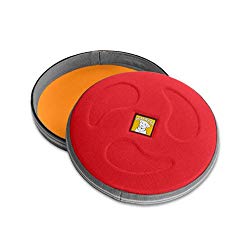 This "high performance" floating Frisbee toy comes in small and large sizes in a bright red color. The molded foam core in the center makes this toy extra aerodynamic and durable, plus it is gentle on your dog's mouth for retrieval.
Cloth Frisbee for dogs
Cloth Frisbee toys for dogs are gentle when mouthed or retrieved and very light and aerodynamic, which is just what you want in a Frisbee. Floppy Disc "Import Discs" Soft Bite Disc Toy for Dogs*
This Frisbee features a durable nylon cloth interior with a soft rubber rim. As a fabric dog Frisbee, it gets rave reviews. With a specific mention it is gentle on dogs' teeth, gums and mouth. The disc is 10 inches and comes in a green and pink color.
Hyper Pet 9″ Flippy Flopper Original Dog Toy*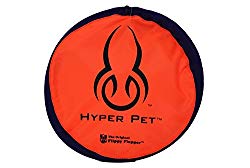 This durable and affordable nylon fabric is made with float-friendly materials that also comply with children's safety standards for the safest dog with Frisbee playtime. It comes in red, lime green or bright green.
Floating dog Frisbee
Not all canines love to swim, but if your pup can't resist the water, you will want to seek out a floating dog Frisbee toy like one of these. Nylabone Go!Active Flying Disc Dog Toy*
This creative floating dog Frisbee has a bone-shaped center, making it easier for your dog to retrieve and hold onto it on land or in water. It comes in bright orange.
Petstages Orka Flyer Rubber Durable Frisbee Chew and Fetch Toy for Dogs*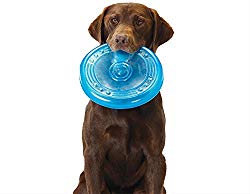 This dog Frisbee toy is a great floater and also very rugged and resilient for chewers. It measures 8.5 inches across and comes in a bright ocean blue.
Dog Frisbee launcher
Finally, for some fun variety on the traditional dog Frisbee toy, check out these unique dog Frisbee launchers and throwers! HurriK9 100+ Foot Flying Ring Launcher Dog Fetch Toy*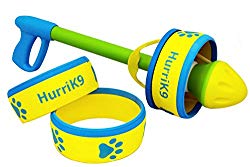 This popular variation on the traditional Frisbee uses three wide rings with a slingshot-type launcher. The materials are safe and non-toxic for kids and pets. You can choose from two types of rings: the tough rings will fly 100+ feet and the extra-touch will fly 65+ feet.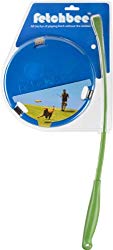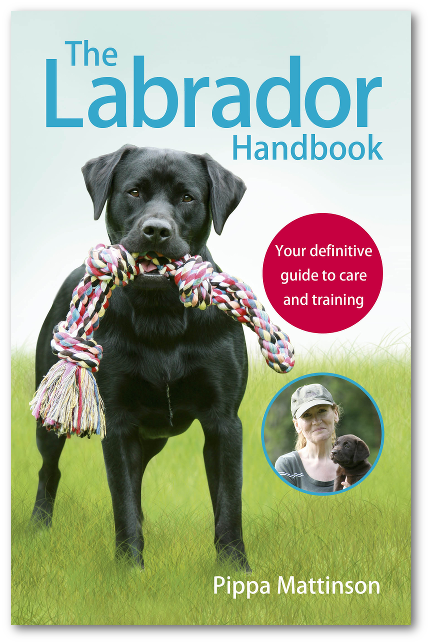 In another unique twist on the classic Frisbee dog toy, the FetchBee features a narrow hollow disc with a throwing arm. Owners say practice is the key to throwing success.
Best dog Frisbee
We hope you have enjoyed this overview of some of the best dog Frisbee toys on the market today. We would love to hear which one is your dog's favorite!
Affiliate link disclosure: Links in this article marked with an * are affiliate links, and we may receive a small commission if you purchase these products. However, we selected them for inclusion independently, and all of the views expressed in this article are our own.
Resources
Runge, E., "Over 100 dogs compete to be 'Ashley Whippet' Frisbee champion," WGN 9 TV, 2017.
Schaffer, D.M., et al, "How dogs navigate to catch Frisbees," Psychological Science Journal, 2004.
Hinog, M., "We have the solution to the NFL's declining ratings and it's Frisbee Dog," SB Nation, 2016.
The Labrador Site Founder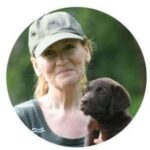 Pippa Mattinson is the best selling author of The Happy Puppy Handbook, the Labrador Handbook, Choosing The Perfect Puppy, and Total Recall.
She is also the founder of the Gundog Trust and the Dogsnet Online Training Program 
Pippa's online training courses were launched in 2019 and you can find the latest course dates on the Dogsnet website