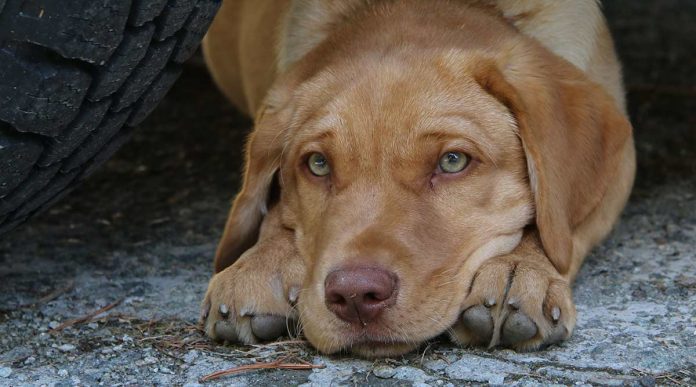 Dog rehoming is a controversial topic. The thought of a dog being abandoned at a shelter, while the people he loves walk away forever, is heartbreaking.
We all know that a dog is for life, or should be, yet most of us accept that there are occasionally circumstances, when rehoming is the best option for a dog and his family.
We are going to look at dog rehoming objectively in this article.
If you want to rehome your Labrador, you won't be judged. You'll find help and support to do it the right way. Because there is a right way to go about this sad process
Rehoming dogs: why, when and how
It is one of life's great tragedies that over a thousand people search the internet each month for 'how to get rid of a dog'.
Not so many people search for 'when' or 'why'. That's a great shame because sometimes, with a little help, people can get through the crisis and their dog can stay with them.
We've all come across callous people who don't deserve a dog and who should never have got a dog in the first place. But not everyone who needs to give up their dog is uncaring. Some of those in this position care very much indeed.
Giving up a dog – why does it happen?
The last thing that occurs to most of us when we arrive home with a new puppy in our arms, is that we might one day have to give him up.
But the hard truth is, thousands of dogs are given up by their owners every year. For many different reasons.
Labradors are no exception, and Labrador Rescue Societies have a steady stream of dogs through their doors.
So before we go any further, let's look at why so many dogs are rehomed each year. And what can you do to make sure this does not happen to you if you are struggling with your dog right now.
Rehoming dogs due to behavioral problems
Sometimes dogs are given up because their owners were simply unaware of what was involved in owning a dog. This can result in dogs being abandoned for normal 'doggy' behavior that their family did not expect.
Sometimes people cause behavioral problems in their dogs by treating them inappropriately or failing to train them. (See our Dog Training center)
Many people don't realise how much time walking a Labrador takes up, or how much effort is involved in training a puppy. (See How To Exercise A Labrador)
Perhaps they thought a puppy could be left alone all day whilst they were at work. And had not planned for the screaming and barking that drove their neighbours to despair. (See How To Raise A Dog When You Work)
Perhaps they thought jumping up was cute in their puppy but now can't cope with a dog that can place its paws on their shoulders. (See How To Stop A Dog Jumping Up)
Perhaps they punished the dog when he came to them, because he ran away earlier, not realising that this would make running away much worse. (See How To Fix Running Away)
All these things that we know as experienced dog owners are 'news' to many new puppy owners. Raising a puppy is not something we are born knowing how to do.
If your dog has developed behavioral problems for any of these reasons, it can be tough to acknowledge that you are responsible, but happily, in most cases these problems can be fixed. You can click on any of those links to find out more.
And if you are struggling with more complex behavioral problems, then there is a network of international animal behaviorists that can help or advice you. Your vet will be able to recommend one locally. And you are welcome to join our forum for help and support
Sadly however, some dogs are given up because their family's circumstances have drastically changed.
Dog rehoming after changing circumstances
Marriages sometimes end, relationships break up. People sometimes die, or become disabled, and dogs, like children may suffer in these circumstances.
Unlike children, dogs are often rejected by both parties after a marriage breakdown, and relatives may not be so keen to take on an older dog that belonged to a deceased relative.
Some dogs are given up because their owner is forced to work longer hours due to a change in circumstances, or because their work has taken them abroad.
Doing the right thing
Although some people feel that no-one should give up a dog under any circumstances, I don't agree.
Keeping your dog and struggling against all odds to do so, is not necessarily in his best interests. But making a decision to give him up is a terribly difficult one.
You may feel as though you have failed.
This can be especially painful if you have also suffered a separation or bereavement.
You may be afraid for your dog's future, of what may happen to him if you do not keep him. What you will need is advice and support.
The important thing to be aware of, is that there is a right way, and a wrong way to go about rehoming your dog.
The problems with private dog rehoming
Unless you are very experienced and knowledgeable about screening potential new owners, private rehoming is a risky business.
There are unscrupulous people out there, that will take 'free to a good home' dogs and use them for unsavory purposes, for indiscriminate breeding, or even for dog fighting.
As a private individual, it would be difficult for you to check out the credentials of any new owner, or to assess their suitability.
This is really a job at which some dog rescue centres excel, and the best chance of a good and permanent home for your dog lies with one of these dedicated organisations. More of that in a moment.  But what about your local animal shelter?
Rehoming through a shelter
You need to be very realistic about what is likely to happen if you surrender your dog to a general animal shelter.
Many animal shelters will kill surrendered animals within a few day of surrender.
Every shelter has it's own policy, and indeed some have a 'no kill' policy but you owe it to your dog to know what the shelter's policy is before you walk out of his life.
Much the best option for your Labrador is to get him accepted by a breed rescue. Let's look at that next.
Dog rehoming through rescue
People that have to part with a dog usually feel very judged and embarrassed by the whole situation.
They are often afraid to approach a 'Rescue Organisation' and be labelled as "that awful person who couldn't cope with their dog".
But on the contrary,  a good rescue will not judge you at all. They would far rather you gave up your dog under their guidance, as part of a carefully controlled process.
They understand that you love your dog. And will think you a responsible and caring person for approaching them.
They will be able to offer you support and advice as you make your decision, so it is worth approaching them early on in the process, even before you have made up your mind.
Being honest about a dog's faults
If you need to rehome your dog because you cannot cope with his behavior, you must be brutally honest about his faults.
For his sake.
This honesty enables the rescue centre to match the dog with the right owners,  people that are capable of dealing with any problems he may have.
This helps to prevent your dog being passed from home to home in succession.
In any case, a new owner will discover them soon enough. And there are many experienced dog owners out there willing to take on a dog with some problems, provided that they understand what they are getting into.
Before you decide to rehome your dog
If you are struggling with your dog's behavior, and are thinking of rehoming him for that reason, do consider very carefully whether you could learn how to train him yourself.
You would need the time to treat re-training as a serious project,  but most behavioral problems can be overcome.
Dogs with challenging behavior,  can be difficult to rehome, and with the help of a qualified behaviorist, you may find you are actually the best person to help your dog.
Check with your vet as a first port of call, and don't be embarrassed or ashamed.
Labradors are big, powerful dogs and can be challenging for first time dog owners. There is no shame in asking for help, and vets have seen many cases just like yours.
Dog rehoming – a summary
If you are reading this an cannot imagine how anyone could give up on their dog, you are not alone.  Many people simply cannot envisage a scenario in which they would hand over their pet.
To some it would be like giving up on a child.
However, we cannot predict the future, and it is possible for any one of us to fall on hard times.  In some cases, a dog is better off in a new stable home, than with struggling owners that cannot cope.
If you have a new puppy,  it is also hard to imagine just how difficult life could be with a boisterous 80lb puppy rampaging around your home in a few month's time.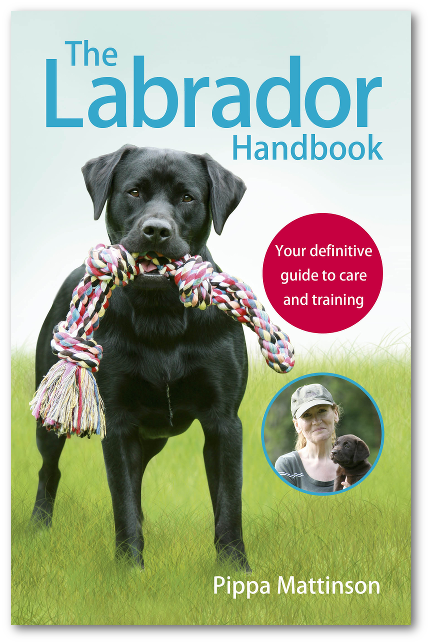 So much of the puppy behavior that is cute at nine weeks old, is a nightmare to deal with at nine months.
The way to avoid disaster is to arm yourself with information, and train your dog as thoroughly as you can.  Check out the puppy pages on this website, and the Dog Training Guides for more information.
Getting off on the right foot is worth every minute of time you invest in finding out how to care for and train your puppy.
We cannot guarantee you a long and happy life together, but we can certainly help.
Don't forget: if you have come to the end of the road,  do turn to your local Labrador Rescue for help and advice.  They will help you secure a safe and happy future for your dog.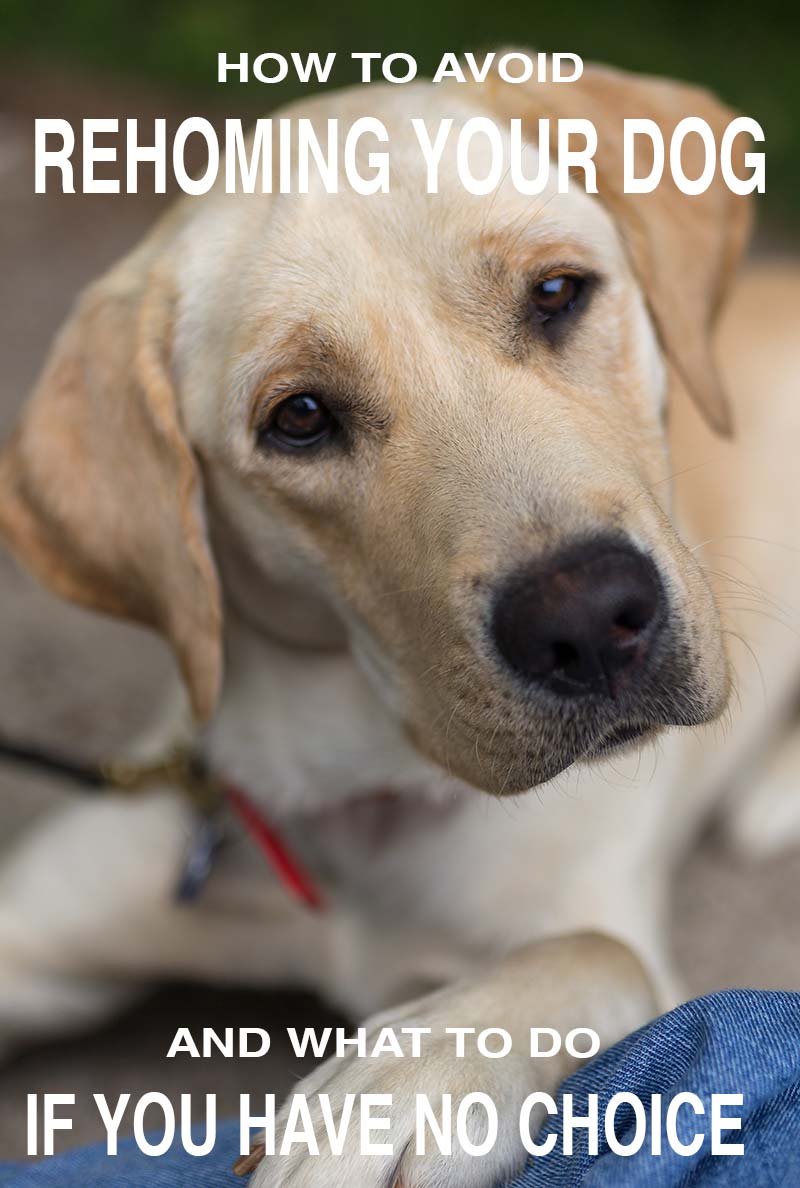 The Labrador Site Founder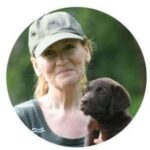 Pippa Mattinson is the best selling author of The Happy Puppy Handbook, the Labrador Handbook, Choosing The Perfect Puppy, and Total Recall.
She is also the founder of the Gundog Trust and the Dogsnet Online Training Program 
Pippa's online training courses were launched in 2019 and you can find the latest course dates on the Dogsnet website