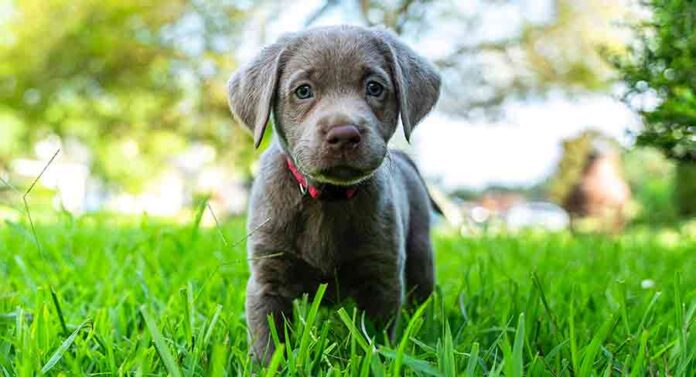 Silver Lab names can be a great way to compliment your Labrador's unusual coat color. But, you don't need to restrict your imagination to colors! You can choose a funny name, something cute, silly, or even something cool.
Silver isn't the most common color for Labradors, and there's still quite a lot of controversy about this shade in Lab enthusiast circles. But, if you're sharing your home with a silver Lab, you'll know they're just as loving and friendly as any other Lab! So, it's worth the time it takes to choose the perfect name for them. Let's kick things off with 25 of our favorite ideas.
Best Silver Lab Names
Smoky
Cloud
Sylvia
Sterling
Birch
Wolf
Knight
Dewey
Star
Thimble
Zippy
Blue
Cobble
Pearl
Chanel
Graphite
Slate
Jasper
Gadget
Marble
Charcoal
Tuna
Gandalf
Ash
Penny
Female Silver Lab Names
There are plenty of silver Lab names girl dogs will suit and love. You can choose something feminine and sweet, or something strong and empowering. Characters and popular figures are a great source of inspiration. As well as names that have special or interesting meanings! Here are some of our favorite human-sounding female name ideas for silver dogs and Labs.
Argenta
Fizza
Naja
Tatyana
Arcene
Rupa
Luna
Ariana
Crystal
Gina
Fiona
Bianca
Gwen
Heather
Alba
Addison
Ivory
Skye
Willow
Azure
Simin
Jumana
Fidda
Arian
Ashley
Male Silver Lab Names
And, of course, we can't forget the boys! There are so many male name ideas that can have perfect meanings for a silver Lab. Or, ones that just sound like they'll suit this grey fur! Here are some of our favorites.
Vendi
Plata
Boyd
Greyson
Silvio
Fedah
Sunaar
Ziv
Oliver
Connor
Bowie
Blake
Jesse
Finn
Mason
Callum
Ryder
Troy
Arlo
Lennox
Jonas
Luca
Devin
Aiden
Ezra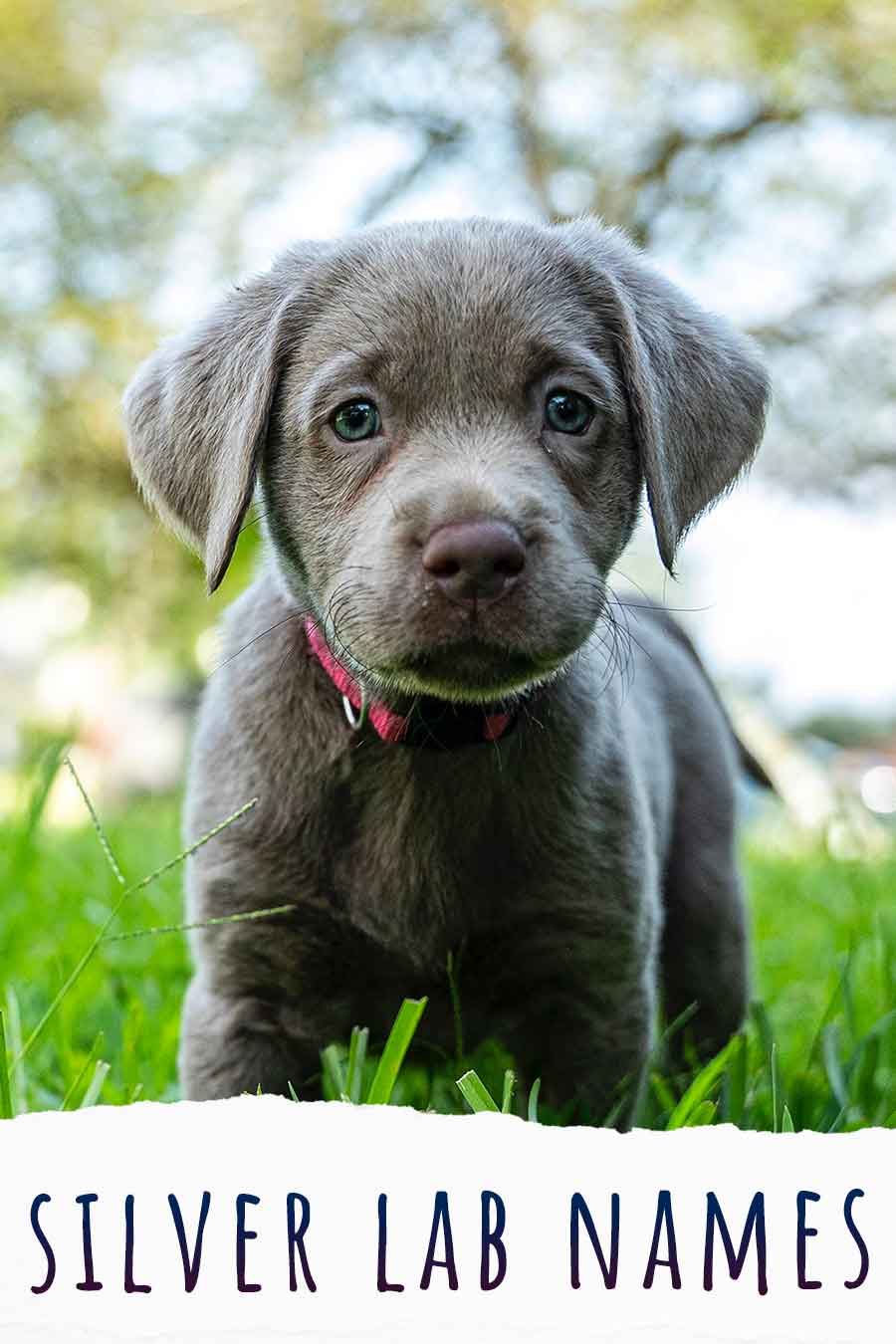 Unique Silver Lab Names
It's not often that you'll see silver Labs in the dog park. In fact, this coloring is quite controversial – many breeders will avoid Labradors that have the necessary genetics. So, if you've managed to find a wonderful silver Labrador, you might want to choose a name that's just as unusual and unique as them. Here are some of our top picks.
Ianthe
Manon
Rowan
Barb
Chisel
Galaxy
Astronaut
Nebula
Agate
Neptune
Venus
Fossil
Aurora
Spectre
Phantom
Banshee
Gizmo
Nesta
Graffiti
Banksy
Nimbus
Azure
Equinox
Athena
Cassian
Cute Silver Lab Names
Cute silver Lab puppies deserve an adorable name to match! Here are some wonderfully sweet ideas that will bring a smile to your face every time you call for your new friend.
Dove
Misty
Pebble
Seal
Feather
Dandelion
Diamond
Penguin
Twine
Koala
Mushroom
Lacey
Elephant
Mouse
Angel
Blizzard
Bug
Bunny
Seahorse
Raindrop
Foxy
Pigeon
Stencil
Dime
Nickel
Cool Names for Silver Labs
Cool name ideas are also a great choice for silver Labs! After all, that grey-blue fur looks pretty awesome, doesn't it? So, here are some cool ideas you might enjoy.
Ghost
Chrome
Tornado
Liberty
Cinder
Falcon
Trojan
Hex
Voodoo
Rolex
Soda
Bubbles
Zinc
Flea
Roman
Sonic
Molten
Ice
Anchor
Flint
Pewter
Icicle
Seashell
Crescent
Statue</li?
Funny Silver Lab Names
Another great type of name for silver Labs is one that will make you laugh! If your new Lab friend is silly and goofy, this name choice can be a great way to compliment their personality. Here are some funny, silly names for Labs with silver fur.
Second Place
Sterling
Concrete
Sardine
Weimaraner
Unsaturated
Earl Grey
Tin Man
Robodog
Tintin
Silver Surfer
Senior Citizen
Goldie
Diluted
Silver Tongue
Long John
Every Cloud
Hi Ho
Grey's Anatomy
Billy Gray Cyrus
Grey Matter
50 Shades
25th Anniversary
Light Black
Stallion
Badass Silver Lab Names
If the names so far haven't been right for your dog, maybe one of these badass ideas will! Our Labs may be friendly and loving, but they are also brave, outgoing, and hard-working! It's hard to think of a more badass dog!
Bullet
Blade
Katana
Bayonet
Fender
Revolver
Pistol
Cobweb
Frostbite
Phantom
Gunner
Savage
Boomer
Ammo
Fender
Butcher
Bandit
King
Warrior
Shadow
Eclipse
Sparrow
Amren
Xena
Witch
Cloud Names for Silver Labs
A common source of inspiration for silvery names for dogs is clouds! So, here are some cloud-inspired names that might be perfect for your silver Labrador Retriever.
Storm
Haze
Stratus
Cirrus
Nimbus
Alto
Contrails
Foggy
Thunder
Gloom
Smog
Puff
Fluffy
Raincloud
Downpour
Atmosphere
Dusty
Cosmic
Aero
Plume
Rainbow
Hail
Flurry
Bluster
Whirlwind
About the Silver Labrador
Silver isn't an official coat color for the Labrador Retriever breed. So, these Labs can never be show dogs, but they can make wonderful family pets. This shade is caused by the dilute gene, which turns the standard black Labrador coat to a lighter silver! The dilute gene is recessive, so puppies must receive a copy from both parents. This is why it's much less common to see a silver Lab. In fact, many black Labs can carry this gene without anyone knowing until they have puppies!
The silver Lab will have the same general temperament, appearance and care needs as any other Lab. As long as they are socialized properly as a puppy, they will be friendly, confident, and affectionate adults. But, the dilute gene has been linked to some health issues, such as color dilution alopecia. So, silver Lab owners should learn about this to know the best ways to help their dilute dogs!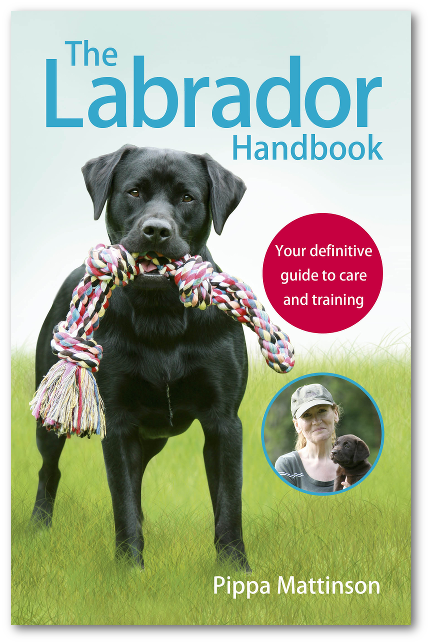 Which Name Did You Choose?
Did you find the perfect silver Lab name on our list today? We would love to hear which one was your favorite in the comments! And be sure to let us know if you can think of any other great ideas, so we can add them to this list.
Readers Also Liked
References and Resources
The Labrador Site Founder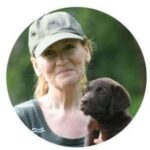 Pippa Mattinson is the best selling author of The Happy Puppy Handbook, the Labrador Handbook, Choosing The Perfect Puppy, and Total Recall.
She is also the founder of the Gundog Trust and the Dogsnet Online Training Program 
Pippa's online training courses were launched in 2019 and you can find the latest course dates on the Dogsnet website