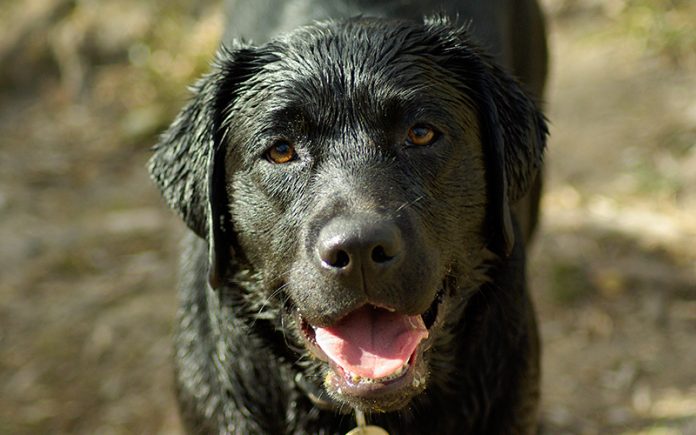 The best dog shampoo cleans your pet's coat thoroughly, doesn't leave a sticky residue and gives them a soft, silky and glossy coat. The best dog shampoos are gentle even on sensitive skin, made ethically and contain natural healthy ingredients. Oatmeal shampoos are a great option, but there are other organic choices which give your pup's fur just as much shine and remove dirt and debris effectively. Dry shampoo is a good method for dog's that hate bathing, and there are even medicated dog shampoo choices for those that have skin conditions or allergies.
Contents
Dry shampoo for dogs
Do you find your dog smelling a bit unpleasant between washes? Does your dog have sensitive skin, which could do with less bathing? Or does your dog make a fuss when taking a bath? If any of these things are true, then dry dog shampoo might be the right product for you in between giving water baths. It cleans your dog gently, while helping her stay fresh longer.
Wahl Natural Pet No-Rinse Waterless Shampoo*(paid link) is a highly rated choice on Amazon. It comes in two varieties, Coconut Lime Verbena or Lavender Chamomile.
Another one that is highly rated is Tropiclean Waterless Shampoo*(paid link) in gentle coconut scent. It is naturally derived from coconut and is mild, safe, and great for sensitive skin. There are no harsh chemicals and no sodium laureth sulfate.
Oatmeal shampoo for dogs
Does your Labrador have sensitive skin issues like dry flaky skin? Is her skin itchy? Do you notice your dog scratching and biting herself a lot? End her needless suffering with oatmeal dog shampoo. Oatmeal is a known soothing ingredient popular in shampoos and skincare products. It works great for sensitive skin because it is moisturizing and very gentle.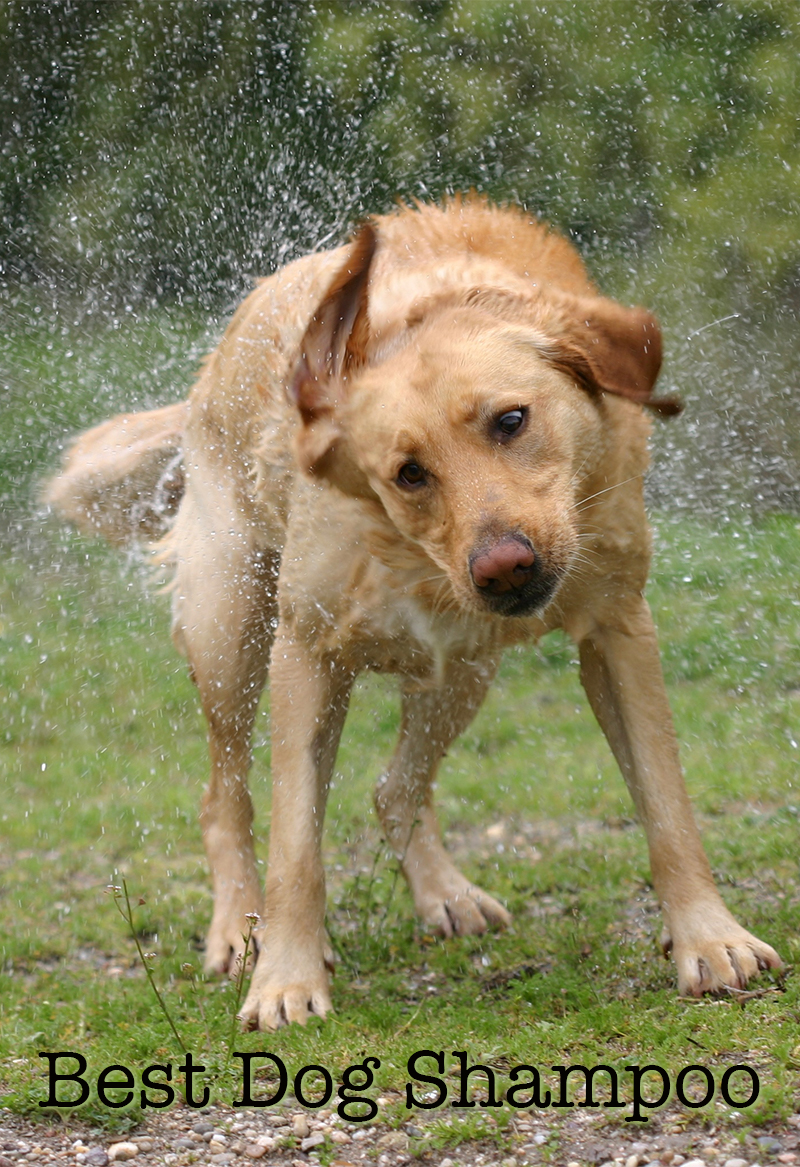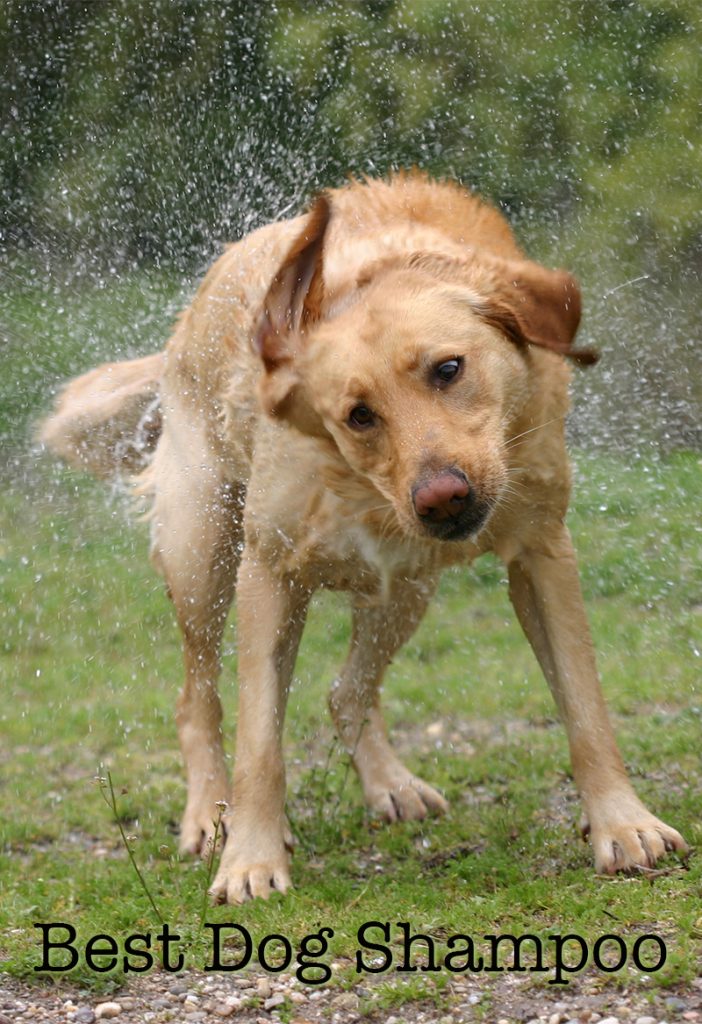 Earthbath makes an All Natural Pet Shampoo*(paid link) that is 100% biodegradable and cruelty free. The oatmeal and aloe ingredients are gentle enough for dogs with even severe allergies.
If you are searching for a tear-free soapless formula, then Mighty Petz Oatmeal Dog Shampoo and Conditioner*(paid link) may be the right product for your dog. This product is rich and thick and lathers beautifully.
Natural dog shampoo
Perhaps your dog is hyperallergenic and needs something extra gentle for her skin. Burts Bees makes a very popular Hypoallergenic Dog and Cat Shampoo*(paid link) with all natural ingredients for young and sensitive skin.
Organic dog shampoo
Do you care if your dog's shampoo is organic? If so, 4-Legger makes a Certified Organic Dog Shampoo*(paid link) that is all natural and hypoallergenic with aloe and lemongrass. It is soothing for normal, dry, itchy, or allergy sensitive skin.
Best smelling dog shampoo
Do you feel good after giving your dog a bath and she smells great? Want a terrific smelling shampoo with a scent that will stick around longer than most other dog shampoos? Then Fresh 'n Clean Scented Shampoo's Classic Fresh Scent*(paid link) may just be the right shampoo for your Lab. It lathers up really well without using up a lot of product. It rinses clean easily, thereby saving time and water.
Puppy shampoo
Puppies have sensitive skin and require a shampoo specially formulated for them. If you are looking for the best puppy shampoo, Burt's Bees makes one that is called Puppy Tearless 2 in 1 Shampoo.(paid link)*(paid link) It cleans, softens, and conditions your puppy's skin and coat. Your puppy will smell fresh and be very clean with this mild cleanser. It is made with all natural ingredients like buttermilk powder, colloidal oatmeal, honey, and beeswax.
Best flea shampoo for dogs
Is your poor doggy suffering from fleas, ticks, flea eggs, flea larvae, or lice? Well we can recommend a flea shampoo for dogs that should solve these problems. Adams Plus Flea and Tick Shampoo*(paid link) with Precor for Dogs and Cats is effective yet gentle. It contains soothing aloe, lanolin, oatmeal, and coconut extract. This formula should provide 28 days of control of pre-adult fleas.
Dog shampoo for itchy skin
Is your dog's skin itchy and even dry? Buddys Best*(paid link) makes a shampoo that is hypoallergenic, organic oatmeal shampoo and conditioner for pets with allergies and sensitive itchy dry skin. It is specially formulated for pets with allergies to grass, flea bites, and food. It is pH balanced for sensitive skin. To top it off, it smells of cherries and almonds.
Hypoallergenic dog shampoo
Does your dog's skin need soothing and moisturizing care? Bodhi's Hypoallergenic Conditioning and Deodorizing Treatment*(paid link) may just be what you are looking for, as it soothes and moisturizes dry, itchy skin.
This is plant botanical based with high quality natural ingredients including oat proteins, aloe vera, coconut, vitamins. And it has fruit extract to calm inflamed, damaged skin. It is formulated for sensitive skin, which is great for dogs with allergies and other sensitivities.
Dog conditioner
Want a soft, luxurious coat for your dog? Why not get a special conditioner for dogs? Earthbath Oatmeal and Aloe Conditioner*(paid link) makes one that detangles and conditions your dog's coat. It conditions well, washes out easily, and does not weigh hair down.
Affiliate link disclosure: Links in this article marked with an * are affiliate links, and we may receive a small commission if you purchase these products. However, we selected them for inclusion independently, and all of the views expressed in this article are our own.
The Labrador Site Founder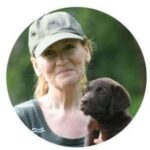 Pippa Mattinson is the best selling author of The Happy Puppy Handbook, the Labrador Handbook, Choosing The Perfect Puppy, and Total Recall.
She is also the founder of the Gundog Trust and the Dogsnet Online Training Program 
Pippa's online training courses were launched in 2019 and you can find the latest course dates on the Dogsnet website