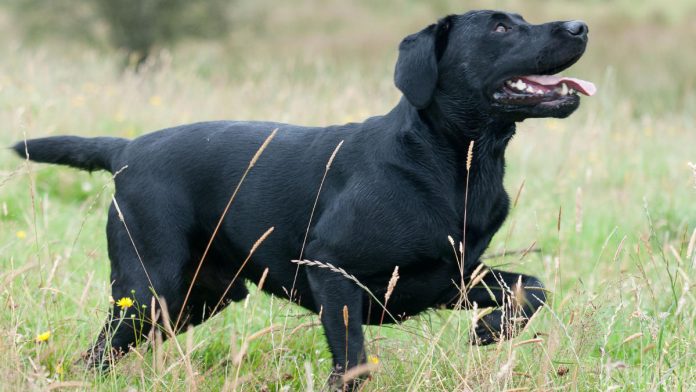 Labradors were originally bred to work as gundog. Even if your cuddly pet Lab has never even seen a pheasant, he still contains all the instincts of his forefathers. His genetics have wired him to enjoy all of the activities a Retriever was traditionally used for in the working world. Gundog training is therefore a great way to channel your pet labrador's 'bounce' and energy, into a useful activity. It can also help you to gain proper control over your dog.
A nice way for pet gundog owners to get into gundog training for fun, is through The Gundog Club.
Graded Training
The scheme managed by the Gundog Club helps pet Labs to focus their natural instincts, and do an activity that bonds them even more firmly to their loving human companions. Their Graded Training Scheme for gundogs was launched in 2006, and several thousand pet Labradors have now taken their first steps on the graded training ladder. Whether they were bred for the show ring or the field, or as loyal family pets, Labradors all love gundog work.
Gundog Club training and assessments take place across the UK, and throughout the year. The Graded Training Scheme takes the process of training a working gundog, and breaks it down into six structured stages.
Is gundog training just for working dogs?
The gundog graded training scheme is not just for working Labradors. It is suitable for all pet and working gundogs. Labradors, whatever their breeding may be, have a great many natural instincts that derive from their orginal function as a working retriever. A lot of people struggle with training and controlling their young labs, in part because of these instincts. Gundog training can help you overcome these difficulties and form a deep bond with your dog.
How far can gundog Graded Training take me?
Graded gundog training can take you as far as you want to go, within the limits of your dog's natural ability.  Many Labradors are capable of working effectively in the shooting field, even if that wasn't the original goal you had in mind when your brought your puppy home. Just as not everyone who enters the Grade One piano exam will become a concert pianist, many dogs enter the early stages of the scheme.
Whilst not all will make it to Field Trial Champion level, many more will get a great deal of pleasure from their new skills. Graded training is an ideal way to harness your pet gundog's natural instincts and learn to work in partnership with your dog. More than half of all the Labrador owners that enter the Gundog Club's scheme do not ever intend to work their dogs in the shooting field. Though many have changed their minds by the time they have completed their first field test.
How do I get involved in gundog training?
Unless you have already made a start with gundog training, you will need to begin at Grade One. You can train your dog by yourself at home, using the Gundog Club's training guide 'Passing Grade One'. Or you can arrange to have some lessons from a Gundog Club instructor. You can check out the standards required to pass Grade One Beginner Retriever here.
What equipment do I need for gundog training?
Equipment required to begin gundog training is very limited. All you will need is a gundog sliplead, and a training dummy. These can be purchased at Country Shows and Game Fairs throughout the summer, at any good 'gunshop' or online at one of any number of gundog equipment suppliers. Most gundog equipment can also now be found on Amazon.
How do I get hold of a good gundog instructor?
The Gundog Club has a list of accredited instructors who undertake not to use harsh methods on the dogs in their classes. Alternatively, you may have a friend or acquaintance that can recommend a trainer to you. Be aware that only a minority of gundog trainers offer clicker training or any other form of positive-only training methods, although this number is rapidly increasing.
The Positive Gundogs Facebook group is a great port of call if you are looking for a positive trainer.
I passed my test! What now?
Passing your first Field Test is a fantastic feeling. It is ideal for your dog if you press straight on with Grade Two, as training standards will fall over time unless you practice regularly. It is tempting to give yourself a break of a month or two before moving on to Grade Two. Don't leave it too long as you may find your motivation dwindles if you stop training for more than a few days. Better to plunge on whilst you are on a roll!
You can go right up to Grade Four without getting involved with genuine fieldwork or gameshooting, and indeed you should not contemplate taking your dog into a fieldwork situation until he has reached about a Grade Four standard.
You will almost certainly need some help from a professional instructor once you get to Grade Three and above, and he or she will also be able to help you get involved with actual fieldwork if you decide that that is what you want to do.
Good luck with your training, and don't hesitate to drop in to the forums if you are having problems or simply want to say hello.
More information on puppies
For a complete guide to raising a healthy and happy puppy don't miss The Happy Puppy Handbook.
Published in April 2014, the Happy Puppy Handbook covers every aspect of life with a small puppy. It will help you prepare your home for the new arrival, and get your puppy off to a great start with potty training, socialization and early obedience. You can buy The Happy Puppy Handbook from Amazon by following this link. If you do, The Labrador Site will receive a small commission which is greatly appreciated and won't affect the cost to you!
This article has been fully revised and republished for 2015.
The Labrador Site Founder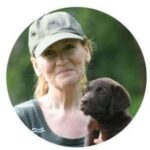 Pippa Mattinson is the best selling author of The Happy Puppy Handbook, the Labrador Handbook, Choosing The Perfect Puppy, and Total Recall.
She is also the founder of the Gundog Trust and the Dogsnet Online Training Program 
Pippa's online training courses were launched in 2019 and you can find the latest course dates on the Dogsnet website