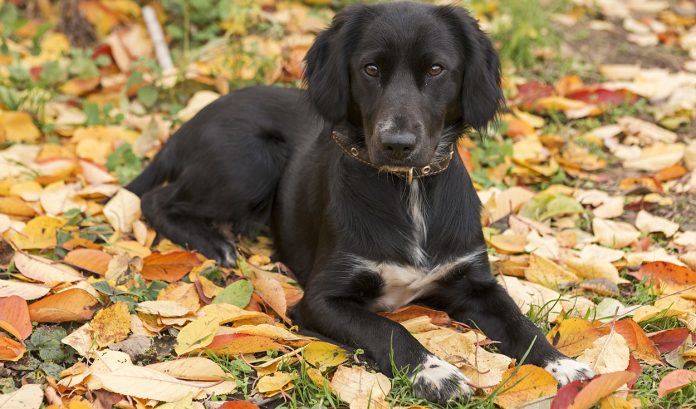 The Springador is a medium sized, energetic, mixed breed dog. It's a cross between a Labrador Retriever and an English Springer Spaniel. The Springador will often have a black or brown coat with some white markings and the ones I have known have all had a friendly, outgoing nature.
Contents
In the UK Springadors are quite numerous, especially in rural areas, owing to the popularity of the two parent breeds. And most small towns and villages are home to one or more of these charming dogs, as either pets, or hunting companions. In the USA and other parts of the world this Lab Spaniel mix is less common.
If you are thinking of rescuing an older Springador you'll be able to see what the adult dog will look like and get an idea of the dog's temperament and character.
But if you are looking at a litter of Springador puppies with a view to buying one, it's important to be aware that final size, and weight may vary between litter-mates. And raising your Lab and Spaniel mix puppy may hold a few challenges.
It's a good idea to know what these challenges might be, so that you can make a good decision on whether this dog is right for you at this point in your life.
Springador Size, Weight & Energy
An adult Springador is going to weigh somewhere between 30-50lbs. I appreciate that this is a wide range and that's because it's hard to make accurate predictions for an individual puppy.
Some Springer Spaniel Lab mix pups will take after their Labrador parent and may grow into an adult dog weighing 50lbs or more with energy and pulling power to match!
Others in the same litter may favour their Spaniel parent and be nearer the lower end of the scale at 30lbs.
All Springadors, no matter what their size, are high energy dogs. And for many this trait will persist until old age.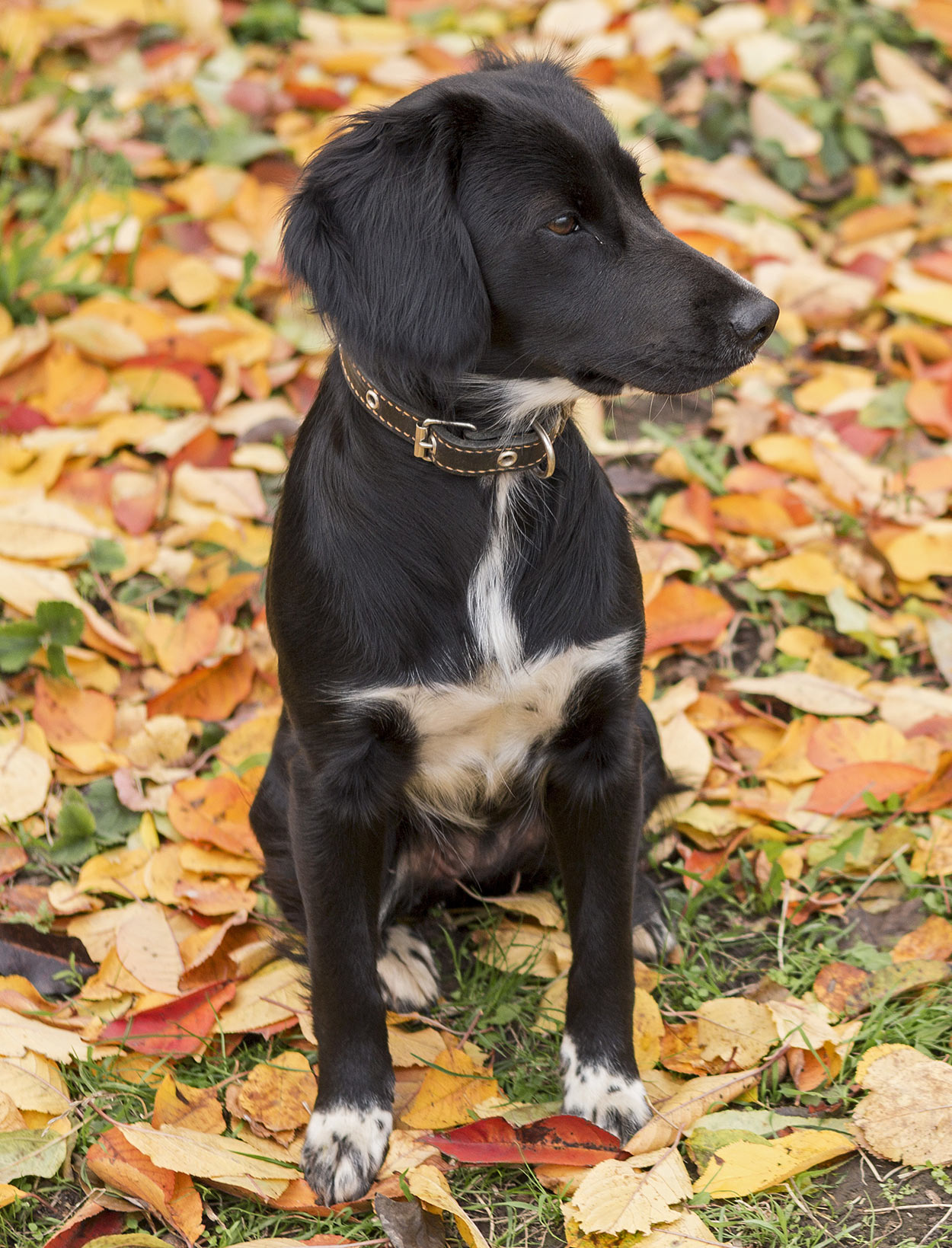 I have raised a number of Springer Spaniels and Labradors. And they do have quite a few character traits in common in addition to that energy.
But there are some differences too, and it's important to be aware of them. Because a Spaniel Lab mix may inherit those traits in varying and unpredictable proportions
Temperament and Behavior
Adult Labradors, are generally amenable, friendly and easy going dogs. I don't want to over emphasise the laid back nature of the Labrador here. Temperament problems, especially reactivity, can and do crop up in the breed, especially in working lines. And all Labrador puppies over four or five months of age can be extremely boisterous, clumsy and excitable.
However, with a bit of luck, raising and training a Labrador is usually straightforward, and most Labradors are happy to stay near you and to go home with you at the end of a walk. Some Springadors will inherit this type of character, but not all.
English Springer Spaniels, especially from working lines, can be much more challenging to manage. The Springer is bred to hunt, specifically to hunt and flush live game such as pheasants and rabbits. Like Labradors, they are expected to retrieve game once it has been shot. But it is the hunting part of the equation that drives some of the Springer's more challenging behavior.
All spaniels are 'busy' dogs. They are nosey, and like to be involved in everything.
If the spaniel parent of your future pup is from show lines, then there is a good chance that their temperament, once adult, will be relatively calm. But in some working line spaniels the word 'frantic' is a more accurate descriptor than busy.
Recall is often an issue in these dogs. And I see a lot more Springer Spaniel owners struggling with recall problems than Labrador owners. That hunting drive we talked about earlier can make it much harder for you, as the dog owner, to make yourself the center of your dog's world, and to build a strong bond with your pup
Sociability And Companionship
One thing that both Springer and Labs have in common is that they are very sociable dogs. Neither Labs nor Springers enjoy spending hours and hours on their own. And a proportion, if left alone for too long, may be very vocal, and/or destructive.
Springers in particular can suffer from repetitive behaviors and self mutilation issues if crated or confined for long periods. They may spin on the spot for minutes at a time, or chew their own paws until they bleed for example. These dogs need company. So if you work full time you'll need to dip into your wallet for doggy day care.
Springador Training
So what does all this mean for the prospective Springador parent? If you are buying a Springador puppy as a pet, and it inherits a largely Labrador like temperament. You probably won't have too many problems with training. The catch is, you won't know until its too late what kind of hunting drive your puppy has.
For that reason, you need to err on the side of caution and train your puppy from an early age to see you as the center of the universe and the source of all good things. And to make sure they don't have too many rewarding experiences (chasing rabbits for example) away from your side. Happily, this type of positive reinforcement training, and careful approach to free exercise is beneficial to all dogs.
Walking Your New Springador
There is nothing a lively Springador dog will enjoy more than a good long walk. But if you are rescuing a Springador, bear in mind that many spaniel mixes end up in rescue due to recall and obedience issues generally.
So be prepared to embark and a good program of training to bond with your dog. And only introduce access to off leash exercise gradually, and under controlled conditions.
Health Issues
While these are broadly healthy, well structured breeds, both Springers and Labs suffer from a range of health conditions that your puppy's parents should be tested for before being used for breeding.
Because mix breed litters are often accidents, these screening tests may not have taken place. In which case you won't know whether or not your puppy will be more likely to get hip dysplasia or suffer from progressive congenital blindness for example.
Health insurance for pets is a good way to protect yourself against the financial impact of expensive veterinary treatment. And insuring your Springador puppy against illness is particularly important if the parents have not been health screened.
Should I get a Springador?
A big catch to cross bred dogs is this difficulty in predicting outcomes. Especially in puppies. Pedigree dog breeds have their fair share of issues, especially when it comes to genetic health. But in general you do have a better chance of estimating what kind of dog your puppy will be as an adult.
If you buy a purebred dog you only have one set of potential traits to consider. But with a mix breed, the dog could take after either parent. And you won't know which parent, or in what proportions those traits will be expressed, until your puppy is six months or older.
On the other hand, your mix breed puppy is likely to live longer than their purebred parents, will be more unique in appearance, and just as likely to bring pleasure and happiness to your family as one of their purebred cousins.
And unless the owners are trying to market their puppies as designer dogs, a Springador may well cost you a lot less than a purebred Springer or Lab, and may be cheaper to insure.
Should you get a Springador? Well, if you want a dog to go for long walks with or jog with, if you have free time each day for training and are willing to learn how to train a high energy dog using modern methods, then a Springador might suit you well.
If you work long hours away from home, can't take your dog with you, and can't afford doggy day care. Or if you are a bit of a couch potato, then a Springador is probably not the right dog for you at this time.
If you already own a Springador, we'd love to hear from you. You can comment below, or check out our Facebook page to see what people are saying about these fun, family dogs.

The Labrador Site Founder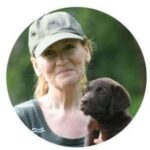 Pippa Mattinson is the best selling author of The Happy Puppy Handbook, the Labrador Handbook, Choosing The Perfect Puppy, and Total Recall.
She is also the founder of the Gundog Trust and the Dogsnet Online Training Program 
Pippa's online training courses were launched in 2019 and you can find the latest course dates on the Dogsnet website